Preston Hall Farms
Allmet deliver state of the art grain drying plant
Access to leading grain drying technology and more than six decades of
experience in the industry means Allmet, a division of JWI, are at the
forefront of advances in grain drying, handling and storage.
One of their recent commissions demonstrates the benefits Allmet's expertise and resources are delivering to farming enterprises.
Preston Hall Farms in Midlothian, a predominately arable, family partnership of 660 hectares, was looking for a total grain drying and storage plant solution. They wanted to utilise their existing biomass water boiler to generate grain drying heat, needed intake storage to hold grain pre-drying, were looking for a labour reducing control system and a new multiple bunker grain store with crop conditioning capability.
Allmet's access to the latest technologically advanced control systems and their know-how put them in the perfect position to help Farm Manager, Bill Gray and his team get the best fit for their needs, as Allmet Director, Charles White explains:
"Our bespoke solution involved design of an Allmet grain drier complete with hot water coil. This allows for use of the biomass water boiler's available heat and will help bring running costs down from fuel previously needed to produce that heat, as well as reducing the farm's carbon footprint."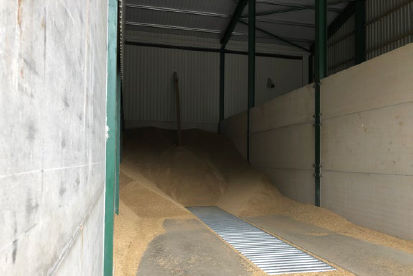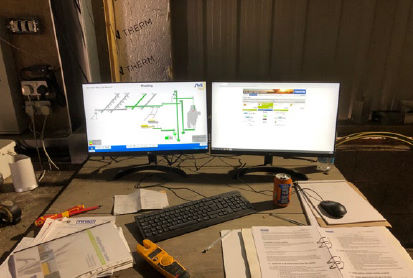 "A Scada control system was designed complete with a Tornum Intelligent Dryer Control System (IDC). The IDC allows for total process control, taking the guess work out of grain drying. For Bill, it gives peace of mind over the whole process, helping to reduce drying costs by minimizing over drying and increasing drying capacity. Ultimately the IDC helps maximise obtainable product quality, weight and prices."
Preston Hall's Farm Manager, Bill Gray explains why they opted for Allmet: "We liked the way Charles and James worked, we'd had colleagues recommend them plus Tornum's IDC system and expertise in biomass technology was a big appeal. We bounced around a lot of ideas and finally the description and package they offered was just what we were looking for.
This is the second harvest since the plant was completed and Bill says they are reaping the benefits of their investment: "The IDC unit has made my life so much easier, the ability to confidently control the grain drying process remotely and without needing to be on site constantly, is a God send.
"We harvest a variety of crops and the modularized storage system has given us the flexibility we needed plus minimal handling. We've taken as much labour out of the process as we can with the self-loading system and the underfloor ventilation system means a safer and better quality crop. Finally we opted for the automated Barn Owl ventilation control system which again allows for more remote management of the process. It's definitely been worth the investment."