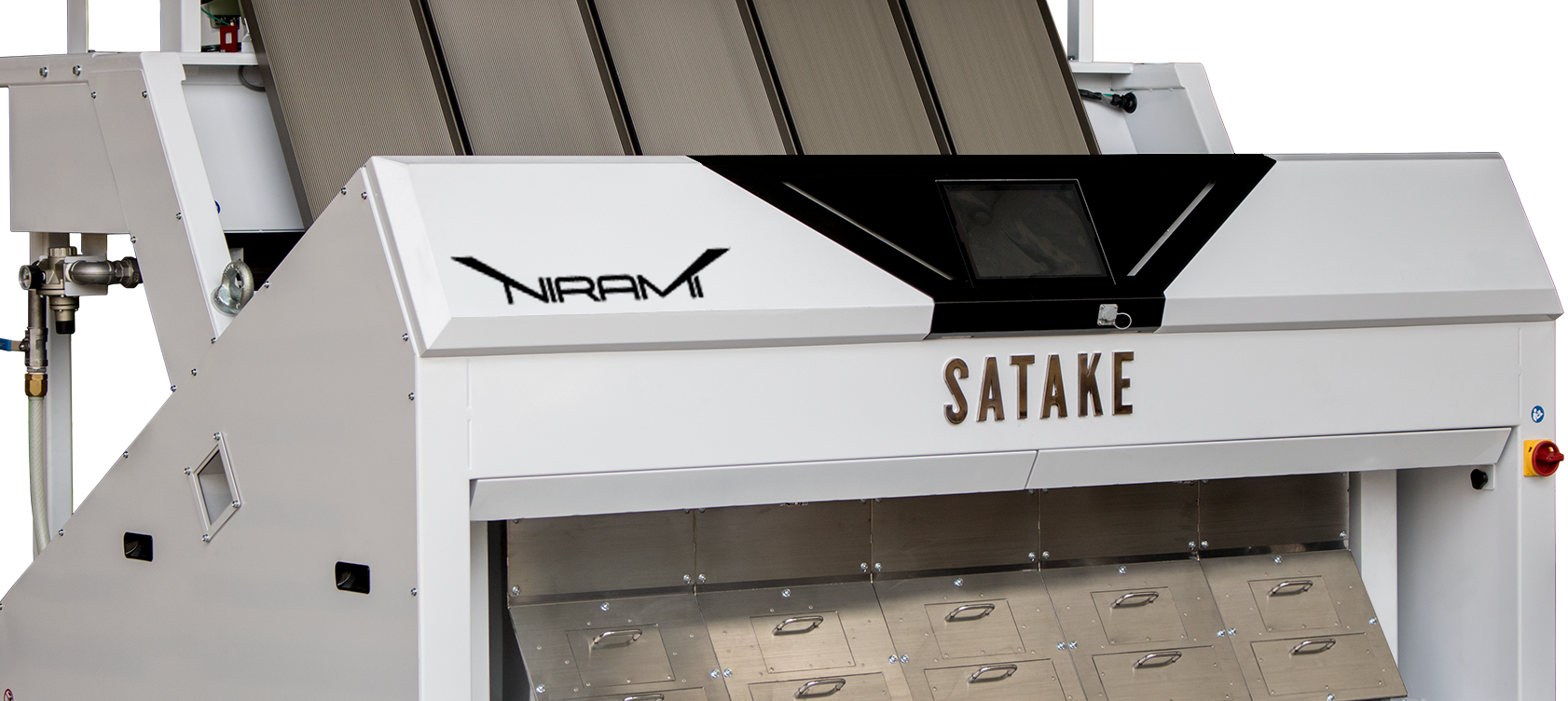 Colour Sorter Machines
The Satake range of optical colour sorter machines offer automatic, cost effective solutions for all commercial applications.
Utilising RGB full colour cameras, shape recognition technology and now with the addition of optional infra-red cameras this intuitive and intelligent software guarantees the maximum product purity with minimal loss.
NIRAMI Range
The Satake range of optical colour sorter machines offer automatic, cost effective solutions for all commercial application.
Newly designed optics detect and distinguish subtle colour differences utilizing RGB full colour cameras and with the addition of optional infrared (IR) cameras, inorganic foreign material is also rejected. Nirami also incorporates shape recognition technology to sort the material by shape, such as broken or adhered, which conventional colour sorters could not achieve. Its new responsive reject ejection system and Satake's latest image processing technology guarantees the maximum product purity with minimum loss of good material. Result of these features is an extremely accurate and controllable sort to ensure clean and safe finished product.

NIRAMI has been designed with an open frame which allows for easy cleaning to prevent cross contamination and convenient access for maintenance. The ability to automatically calibrate removes the need for production stoppage. Its large LED operation indicator allows the operators to see the machine status at a glance. The NIRAMI also features Satake's unique 3S software for simple intuitive set up and adjustment to maximize performance, profitability and fast return on investment.

Optional remote access via secure internet connection allows the flexibility to monitor performance and provide diagnostic support.

NIRAMI will provide solutions to processors seeking excellence in consistent reliable product quality.
Product Advantages
InGaAs Infrared Technology for removing inorganic and foreign material
Full colour for subtle colour differences
Minimal operator training required
Quick and easy product & defect set-up
Automatic sorting parameter function
One touch pre-set recall
No changeover parts between products
Reverse sort option
Easy cleaning and maintenance
Long-life LED lighting
No downtime for calibration
Quick return of investment
Product Features
InGaAs Infrared Technology
Full colour RGB camera technology
Extra wide chutes
Automatic Smart Sensitivity System
3D colour map technology
Shape Recognition
Multilingual touch screen and user-friendly interface and image capture technology
High speed, digital signal processing technology
Large smart touch screen panel
Primary, resort and tertiary sort options available
Remote connectivity available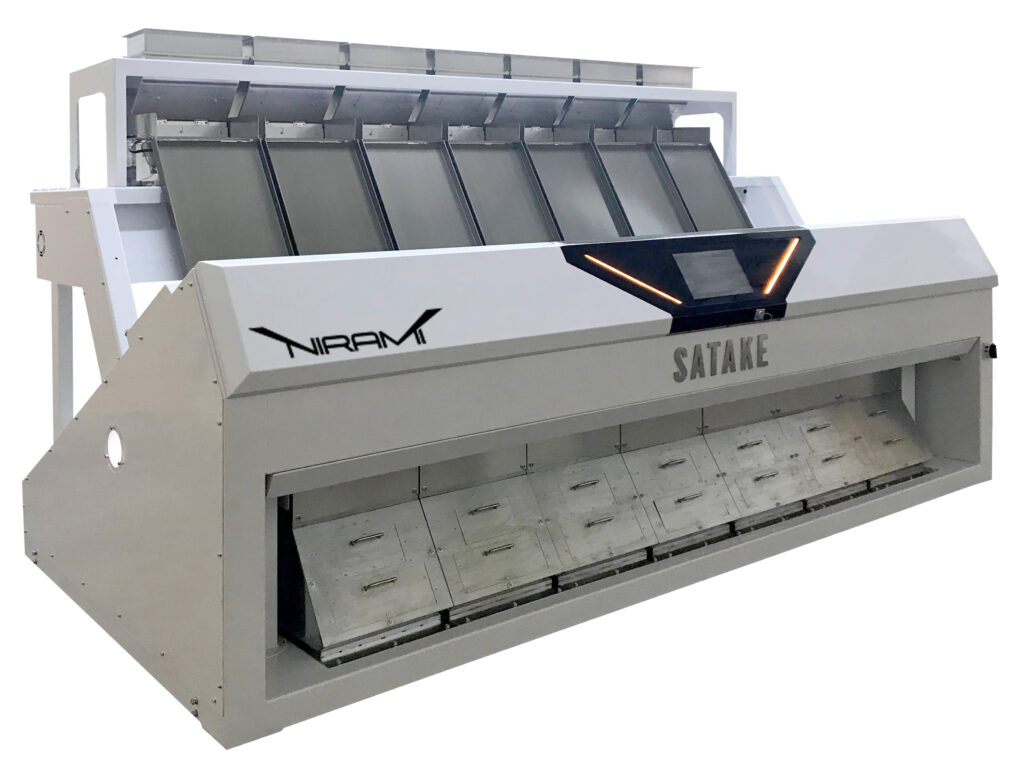 PIKASEN ALPHA
The Satake Pikasen Alpha is an automatic, cost effective, full colour, portable optical sorting machine for small and medium commercial applications, pre-production lots and laboratory use.
Featuring two high resolution "RGB" cameras, small ejector pitch, uniform lighting and sorting capacities from 100g up to 3 tonnes* / hour this compact colour sorter is able to offer high quality sort equal to its larger counterparts.
Shape recognition enables the Pikasen to sort materials by shape and length offering a more comprehensive sort.
Additionally, Satake Pikasen Alpha offers the added benefit of minimal operator training by utilizing an intuitive full colour user interface touch screen and the ability to automatically set sorting parameters.
*Sorting performance varies depending on variety, condition of material and initial contaminations.
Product Advantages
Automatic sorting parameter function
Cost effective colour sorter
Quick return on investment
No changeover parts between products
Easy access for maintenance and cleaning
Minimal operator training required
Reverse sort option
Full colour for subtle colour differences
Very small footprint
Portable
Product Features
Full colour RGB camera technology
Automatic Smart Sensitivity System
3D colour map technology
Shape Recognition
Multilingual touch screen and user-friendly interface and image capture technology
Utilises full colour camera technology to precisely sort a wide range of products
High speed, digital signal processing technology
Smart touch screen panel
Vibratory Feed System